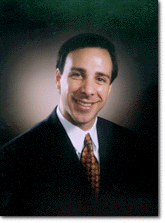 LES OTTOLENGHI
VICE PRESIDENT/CHIEF INFORMATION OFFICER CARLSON LEISURE GROUP
As vice president/chief information officer, Carlson Leisure Group, Les Ottolenghi is responsible for combining new emerging technology with product development, in addition to resourcing new technology, including Internet/Intranet development and other advanced distribution channels. Ottolenghi reports to Michael Batt, president, Carlson Leisure Group. Most recently with Carlson Wagonlit Travel's corporate travel company, Ottolenghi was vice president, Interactive Marketing/Advanced Technologies where he combined new technology with product development and other advanced distribution channels.
Prior to joining Carlson Wagonlit in 1996, Ottolenghi was with Holiday Inn Worldwide, Inc. as director, Emerging Technologies (1994-1996). In this role, he was responsible for using new technologies and media to reengineer company processes, reduce costs, and enhance revenues. He directed the successful launch of two Internet Web sites, including the first on-line reservation system in the hotel industry. Both sites hold the distinction as the fastest commercial launches in Internet history and the first sites to utilize virtual reality and multimedia on-line.
Ottolenghi also held positions with The Coca-Cola Company in Atlanta (1993-1994) where he developed the company's first Strategic Interactive Marketing Plan; vice president with PC-Visuals, Inc. in Research Triangle Park, N.C. (1990-1992); and founder of Computer Innovations Corporation in Durham, N.C. (1984-1990), a chain on computer stores and a software development firm. Ottolenghi was recognized for his achievements with the "Entrepreneur of the Year Award" for the Southeast United States in 1989.
Ottolenghi is an honors graduate of Duke University in Durham, N.C. He received his Master of Business Administration degree from Emory University in Atlanta where he received Woodruff Fellowship. He has also studied at Harvard University and the London Business School.